Inspired
here
, which was inspired by
this
, which was influenced by
this
, I have concocted my own 'to do...' before by birthday in 2011.
Why 2011 you ask?

Well, if I made it for my 2010 birthday, I would have to do 32 things in 3 months.

I don't like that kind of pressure.

So, I'm giving myself a good long 15 months to do 33 things before my 33rd birthday.

Got it?

Mkay, so, let's be clear...I am NOT turning 33 in February.

I am turning 32.

I will not be 33 until February 9th, 2011.

Righty-O!

Incidentally, I am not vain about my age.

Seriously.

Ask my sister (she is). =)

I just wanted to clear up any confusion.

Additonally, I am not vain about my size/weight.

Ask me...

I'd be more than happy to tell you.

Drumroll, puh-lease...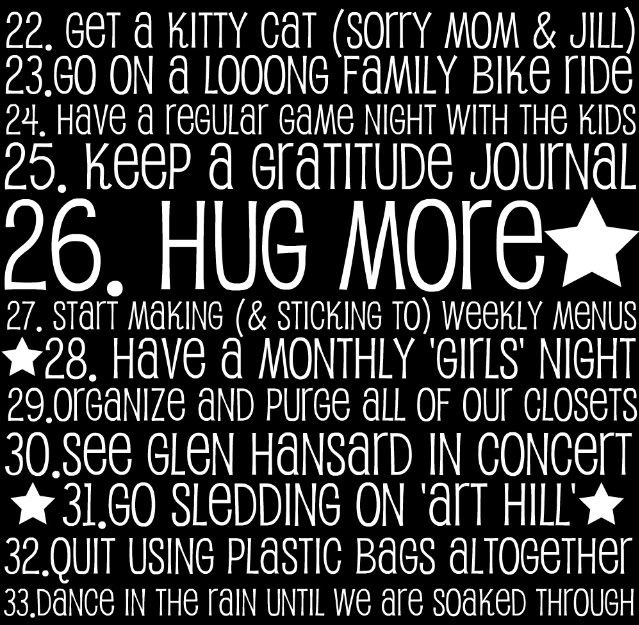 And, in case you can't see very well, like my Ma, I will type them here...

1. Go to church EVERY Sunday. Not just the mornings the kids aren't trying to kill each other or scaling the walls. WHO cares what other people think while we're there?! It's church for heaven's sake!...We're getting there. The secret is Saturday evening mass.

2. Sell something I'm good at making.

3. Run a 5K. (I'm doing this on Saturday. Fingers crossed.)

4. Actually park in our garage. That's what it's for, isn't it?

5. Have a 'kid free' party with all of our friends. Good food, good drink...especially, good food! (Meghan, you can bring the
Pioneer Woman Olive Cheese Bread
.)...
I'm thinking something fancy for our 10 year anniversary in June.
6. Take the kids on a surprise vacay. The kind that we don't tell them about until the morning we leave.

7. Read all of Miss Austen's novels in a row with no breaks or books between. Never done them like that.

8. Find a good red vino, that I can't live without. So, I know exactly what to order when out. I can never make up my mind if I don't have a fav.

9. Learn to make really good crepes. They're always too thick.

10. Since I cannot afford to get my tattoo removed, I want to have it inked over into something I really love.

11. Grow my hair out past my shoulders (it's never been that long in my WHOLE life). Even if I cut it off the next day...Grazing the shoulders as I type this.

12. Camp with my family in a different state. Preferably, somewhere east.

13. Karaoke in front of a large group of people. Probably a show tune.

14. Renew my marriage vows. (10 years in June. WOW!)

15. Quit biting my nails.

16. Learn how to can veggies & fruit. AND, learn how to make preserves, jams, and chutneys.

17. Ride a horse. It's been a really long time.

18. Grow some of our own vegetables.

19. Archive and print all pictures off of the computer. Okay, maybe half. Because, literally, there a thousands of photos on this computer.

20. Get a very long massage from my friend, Mrs.Lewis.

21. Go on two dates a month with my husband. This has to happen. I will even count going on a walk as a date.

22. Get a kitten. Not sure about this because of severe allergies in my extended family...

23. Go on a looooooooong family bike ride. Maybe the
Katy Trail
.
24. Pick a regular weekly game night with the kids.

25. Keep a semi-regular gratitude joural.

26. Hug people I care about way more than I do (like, other than my kids, they get lots). I really need to express my emotions physically more often. Sometimes it's really nice to get a hug from someone you love.

27. Start writing out weekly menus the week previous, and sticking to them.

28. Have a monthly girls' night out. The more the merrier.

29. Purge and reorganize all of our closets. That's a lot of junk...1 down, 4 to go.

30.
See that beautiful red-headed man,
Glen Hansard
, live. (UPDATE: just bought tickets this week for a 'The Swell Season' show on 12/4)
31. Go snow sledding on the Lou's famous
Art Hill
. It's been decades, and my babes have never been.
32. Quit using plastic shopping bags once and for all. I try, but I'm not consistent.

33. Dance in a downpour until my clothes are soaked. Hopefully, with my whole family.

I will cross items off ONLY if they are complete, or if I've kept up on them for several weeks to several months.
That way, I know it's become part of my routine and not just done so I could cross it off the moment I tried it.

Sound fair?

Good.

I encourage you to make a list.
Let's see what we can all come up with!