#1
In honor of the
Duggar's 19th bun-in-the-oven
...
I am making Duggar Tater Tot Casserole tonight for dinner.
Not the healthiest thing to have (by far), but quick, easy, and tasty.
TATER TOT CASSEROLE
1 lb ground turkey cooked, seasoned, drained
1 & 1/2 2lb bags tater tots (3lbs. total)
1 cans cream of mushroom
1 cans evaporated milk
1 cans cream of chicken
Brown meat & place in large casserole dish. Cover with tater tots. Mix soup & milk together. Pour over top. Bake at 350 for 1 Hour. (One of Jim Bib's Favorites!) Makes 1- 9"X13" pan
#2
Yesterday, Rosie pleaded to go in the back before I was ready to go with her. I, obliged, because I was unloading/loading the dishwasher and could see her from the door. She DID take a quilt and throw pillow out with her, but I just figured she would put it in the 'trunk' of her cozy coupe. Boy, was I wrong. I spied on her until she seemed settled into what she was doing. And, after 5 minutes time, this was the scene...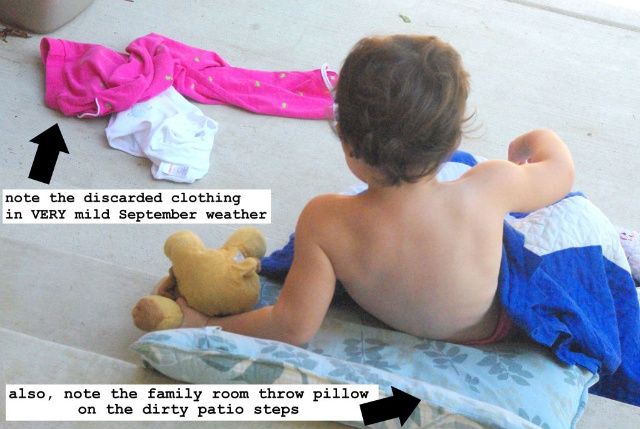 She is, without a doubt, my kookiest kid. She makes me laugh.
1 more day 'til a 3 day weekend!