I wanted a big, bold piece for Rosie's room. With my budget in place, it had to be cheap. I had, originally, decided to buy a canvas from Hobby Lobby and paint something on it. But then luck struck...my friend, Mrs. Lewis, got a slew of old canvases from her in-laws (they're moving). They weren't very, um, uh, attractive. But, a canvas is a canvas, so, I started brainstorming.

At first, I was just going to paint the whole thing brown and paint an egg on it. However, the original artwork was raised and you could, totally, see where the sun and beautiful palm fronds were, so, that was just not going to work.

Covering it in fabric seemed the logical next step.

Step 1: I sprayed the original design with brown so the contrast wouldn't be visible through the fabric.

Step 2: My fabric choice (Alexander Henry, Bird Seed) was too stark white, so, I soaked in a bath of strong tea, and then dried it. It came out perfectly imperfect.


Step 3: I tore a chunk from an old cream sheet in the desired dimensions.
Step 4: Then, I painted a big beautiful robin's egg on it with cheapy craft paint.

Step 5:
Once the egg was dry, I splattered a bit of brown paint on the egg to make it a bit more realistic.
Step 6:
This step is really a combo of several steps. Ooops! I cut the egg out and appliqued it onto the dry background fabric. I used several different stitches and did it really sloppy. It just gives it another layer of texture. Then, I stretched and stapled the appliqued fabric onto the old canvas.
Step 7:
Next, I heated up the old glue gun and collected some small sticks. Carefully arranging them into a nest shape, I glued the sticks onto the canvas.

Voila!


Everything is really coming together for Rosie's room. I really just have some spray painting and framing to do, and all of my 'Ro' projects are done. I think it's going to turn out great, and I love the colors. I hope she loves it, too.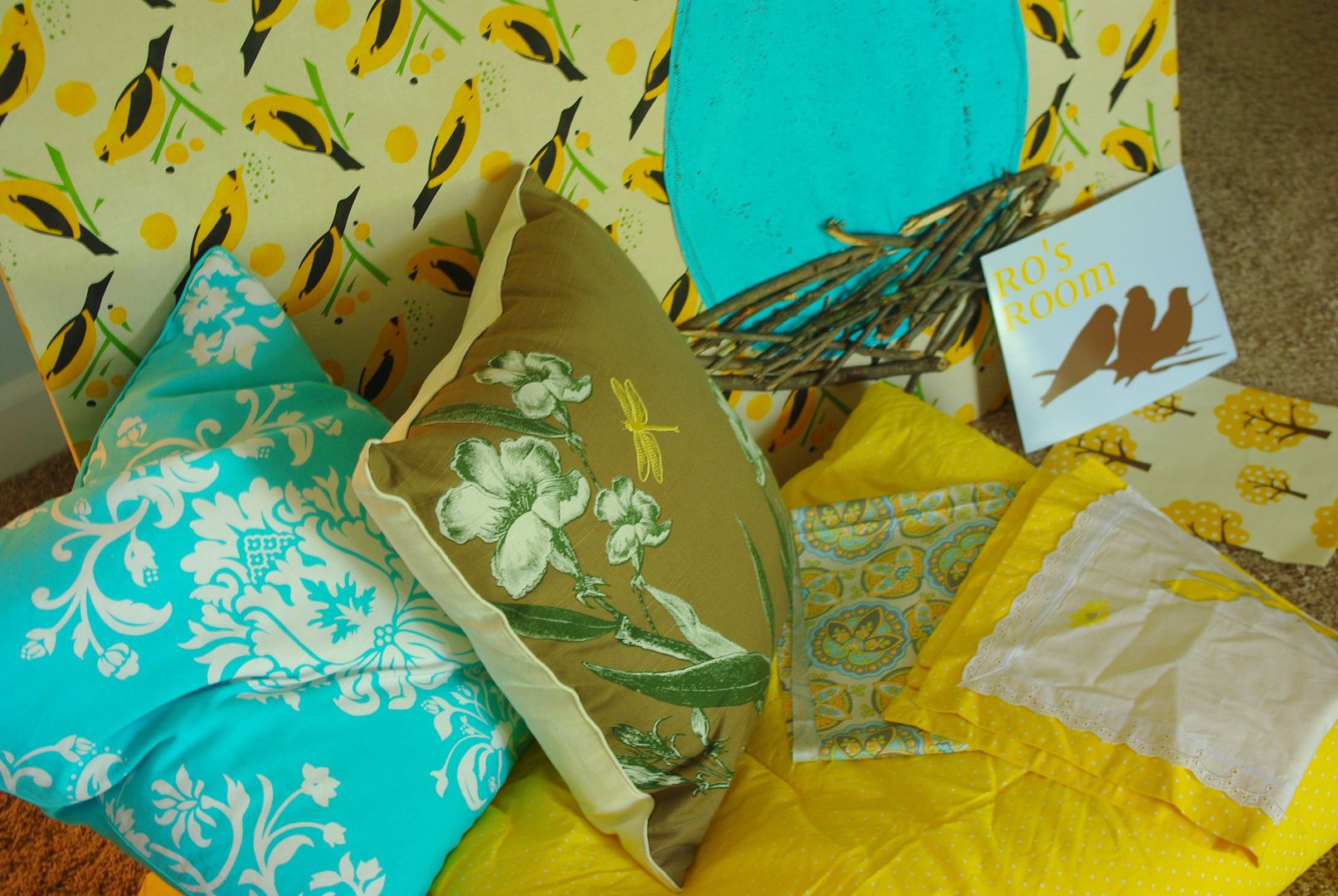 I can't wait!!!