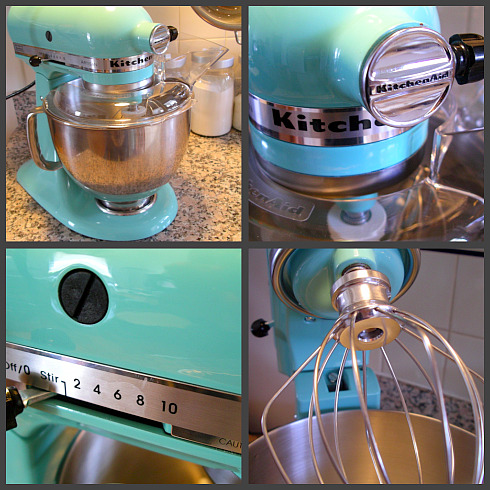 image via thesecondlunch.com
Because I am eternally nosy, I thought I would let you nose around my life today...
1. I don't want for much, but I want a Kitchen Aid Stand Mixer in Martha Stewart Blue so bad, I am starting to think selling my left kidney sounds like a good way to get one.
2. My first car was a Volkswagen Rabbit convertible. Man, did I think I was coooool.
3. I was on the dance team in high school. I never danced in my life prior to middle school. I was more of an athlete. My high school's dance team was big shniz, and one of the best in the area. We competed in Nationals every year, and when I was a junior, we place second. The reason I'm telling you this is because my ugly mug got a close up on ESPN when our routine aired. My 15 minutes of fame was on a nationally televised network program that was repeated frequently that year. Again, I thought I was cooooooooool. (Remind me to tell you a story about my freshman and senior years on the pom squad, wowza, not so cool! But, those are stories for a different day!)
4. My high-school sweetheart is now my husband. Sure, I 'went out' with other boys, but Jake was my first bonafide boyfriend. He knocked on the door when he picked me up, and took me on REAL dates that he paid for. He was the first and only boy I've ever loved. I got engaged to him when I was 21, married him at 22, and less than 3 months later we found out we were expecting (and, yes it was planned). We became parents at 23, and 7 months after that #2 was on the way (again, planned, as were the other 2). People thought (and, probably still do) think we were crazy, but I wouldn't change a thing. I've also been led to believe that some people think we missed out on some incredible social experience by only having dated each other without having 'tested the waters', but I consider ourselves lucky that we DID miss all of that. I didn't really feel like sharing him. :)
5. I was born and raised in St.Louis, Missouri. The gateway to the west. I have a really large extended family, and, for the most part, we all still live in the area, with the exception of about 2 of my cousins. We also have a very extraordinary talent for eventually finding our way back home.
6. Most alarmingly, I went to the University of Kansas. That is true betrayal in these parts. I live in a place where, at any time, if you say 'M-I-Z...' you will, most certainly, here the echo '...Z-O-U!'. I did not go to KU to be rebellious, I went there to be closer to Jake. He went to William Jewell College in Liberty, MO about 45 minutes away from Lawrence, KS. I cannot say that I did not, absolutely, adore Lawrence...because I did. It is the best town and the most beautiful campus. I am so grateful I got to experience what I did there. Incidentally, I was a double major in communication disorders and Croatian/Serbian. Do NOT ask me to utter a word of it, though. I remember NOTHING except, "Zdravo, je li tako". And, I am most certain, even that isn't right.
7. I graduated from Fontbonne University, in St.Louis, not KU. Jake transferred back home in '97, and I followed in '98. (See? We were quite smitten.) I continued my studies in communication disorders/speech & language pathology, and graduated, on time, in 2000. I started my masters degree the following fall, but quit (gosh, I detest that word), in the spring to focus on work in the St.Louis Public Schools and my pregnancy. Now, I think I want to get my special education certification, but who knows...
8. I spent 15 glorious days in England during the summer of 1999. I loved it there, and would pack up my family and move across the pond if I knew Jake could have as secure of a job there as he does here. My dear friend, Julie, is married to an Englishman, and does not understand my being romanced by such a place. They reside in the Lou, but has England and all its splendors at their disposal. Oh, the irony.
9. I adore music to the core of my being. I cannot play it, write it, or read it. But, it is a huge part of who I am and speaks to me in ways even I do not understand. Sometimes, I think my life should have a soundtrack. And, I suppose it does, I've just never laid out the tracks.
10. I LOVE to sleep. In fact, I would, could, and should sleep for, like, 24 hours straight. Incidentally, I hardly get more than 7 hours of sleep a night. And, my husband, sleeps even less. I could fall asleep at any given moment in the day if I allowed myself to. It is a true and rare talent.
11. I can sing show tunes. Really. Some of my favorites are 'Little Girls' from 'Annie', 'Master of the House' from 'Les Miserables', and 'One Boy' from 'Bye Bye, Birdie'. I always fantasize about getting one of those roles on Broadway where the character is bawdy, cackles, and sings from the gut. After I've gotten my mixer, I will sell my remaining kidney to fulfill this fantasy.
12. My dream, aside from what I'm formally educated to do, is to make a respectable living doing something that channels my creativity, attention to detail, and eye for design. A party planner, decorator, writer, or all of the above. I, also, aspire to have my home, or some part of it, in Better Homes & Gardens. Vain and trite, I know, but it would be brilliant if that ever happened.
I could go on and on about stupid stuff about me you didn't know, or care to know, so I'll stop. But, I love when people post silly stuff about themselves on their blogs, and thought you might enjoy it, too.
Plus, I had nothin' today.
Nothin'.
Ta-Ta!