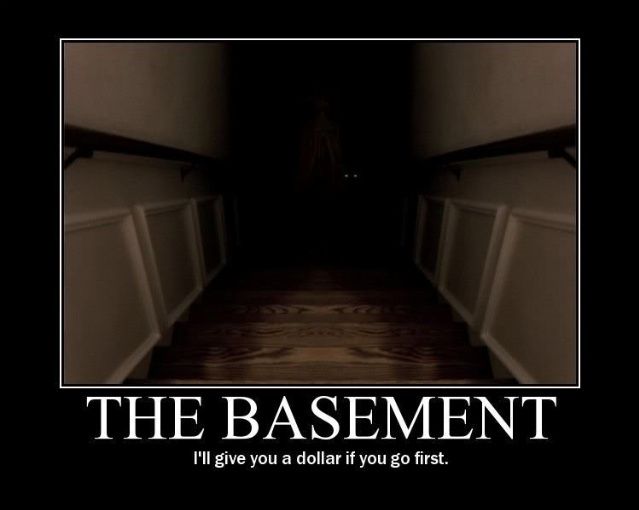 We are, currently, undergoing a pretty big home transformation. Since having made the decision to stick it out in our 1000 square feet of heaven, we have also decided to overhaul the basement.
Yes, it was already finished with a full bathroom, but since when has something like that stopped me before? In my defense, it was choppy and not exactly conducive to my vision. I view it as a place for the boys to lay their bristly heads. A gathering spot for the kids for the next handful of years to play video games, have movie nights, sleepovers, and arts and crafts pow-wows. It will increase the livable space in this house greatly.
But, let's get real, give me more to clean on a regular basis.
However, there is a bright side. The girls will have their own separate rooms which will mean quieter nights with them unable to wake each other up for no other apparent reason than to irritate the tar out of me. In turn, the boys' 'garden apartment' dwelling will be larger than our master.
Needless to say, there will plenty of room for activities (please tell me someone got that
reference
).
With walls knocked out, new flooring, paint, and fabrics, the living side of the basement will be fresh, modernized, and just plain fun, complete with a barn style door to the boys' room.
Don't even get me started on the bathroom transformation.
And, as everything goes in this house, it will all be done on a strict budget, that will leave many of you wondering how, and possibly wanting to spit in my eye upon our next meeting. My one splurge will be wallpaper for Rosie's room. She's never had the privilege of a room all to herself, so, that's how I'm rationalizing it.
But, what can I say? This is my bread and butter. My carrot sticks and ranch. My peanuts and M & Ms. My ice and water.
I cannot wait to show after pictures, which will include the three kiddy bedrooms, the basement rec room, and the basement bathroom.
This is why I've been off the radar.
My creative juices are, otherwise, being employed. I'm thinking of ways to repurpose things I've dug out of the trash, specifically, 2 wickedly boss old doors, and 1 sick with cool vintage child's desk. I've been choosing scrap and 1/2 yard fabrics off of etsy, and I'm trying to come up with a way to display all of our family photos down the staircase (a long time dream of mine).
There will be lots of spray paint, sewing, and paint rollers. But, we are always up to the challenge. I will certainly keep everyone posted.